Student Sponsorship
When we started Calcutta Connect in 2010 one of the first areas we began to provide support to was assisting older students to complete their education by removing the financial barrier which so many students from poorer backgrounds face. Education is free under Indian law until the end of Class VII (14 years old) however, the final four years of school are not and the costs can escalate quickly in the final years putting pressure on poorer families and resulting in students dropping out.
In Calcutta Connect we provide sponsorship to students in the final years of their education to remove this financial barrier and to further enhance the prospects of these students by enabling them to complete their education. We have been supporting older students in this way for a number of years now and have already seen the benefits of this assistance with greater number of students reaching the latter stages of their secondary education.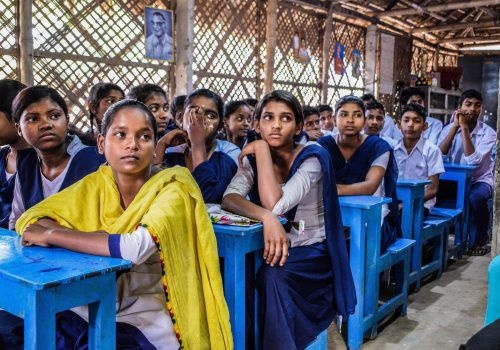 Our Programme Supports Students Covers the Costs of

Stationary & School Supplies

School Fees & Tuitions

Textbooks for all Subjects

School Uniforms and Clothing
Each year we support up to 200 students with sponsorships to help them complete board examinations and finish their education. We do not discriminate in any way in selecting students for our programme and do not apply any criteria for choosing students to support. Instead, once a student reaches Class VIII in our programme areas they automatically enter our student sponsorship programme. Many of the students who have completed their secondary school education have then gone on to further studies at third level in colleges and training institutions in Kolkata. Since 2010 we have supported hundreds of students in helping them to complete their secondary school education.