Realex Payments Group
April 30, 2016
Results Success
May 9, 2016
We have a long and proud connection with Coláiste Éanna, a secondary school in the south of Dublin where all of our committee attended school and where the roots of Calcutta Connect lie. Beginning in 2001 and continuing bi-annually the schools India Immersion Projects brings pupils on a the trip of a life time to experience life in Calcutta and many projects run by various organisations. This February saw the arrival of this years group of twelve pupils and four teachers and it was a great pleasure for us to have three committee members on the ground to show them the projects we support in the city.
After some initial exploration and getting to know the city the group spent the day in our Tangra and Topsia centres where they go to know the communities around our centres and spent the day interacting with many of the students in both centres.
It was great for us to be able to show the group around both centres and give them time to understand the work we do in both communities. The students from Coláiste Éanna go to know many of the older students we have been supporting over the past number of years and learn about their lives in the areas they live.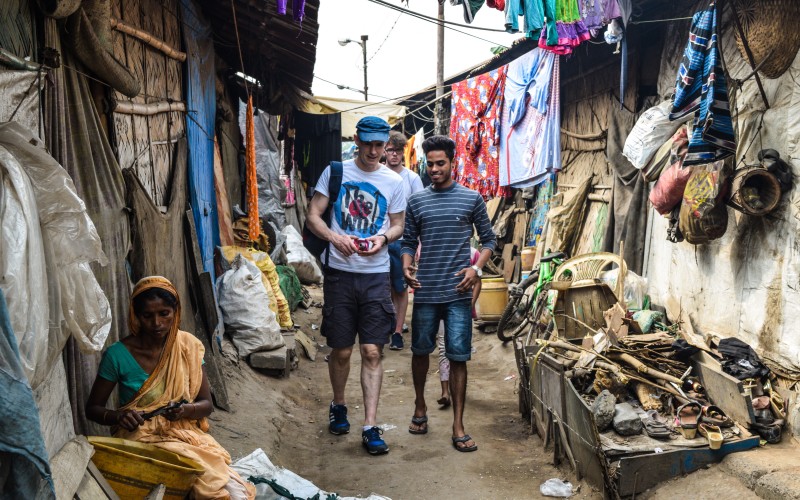 The group the departed for a two day trip to St Patrick CBS in Asansol about 200km north-west of Calcutta. On their return we then showed the group our Khidderpore centre where they were given an incredible welcome by our staff and students and spent a memorable evening with the students there helping them with their lessons. The journey to and from Khidderpore was memorable as we traveled in the back of an open back truck and had to duck down a number of times to miss overhead objects. It was a great experience in Khidderpore and we were delighted to make this group the first from Coláiste Éanna we brought to our Khidderpore centre.
As always the Coláiste Éanna India Immersion Project was a great success and we were happy to be such a big part of the group and what they do during their time in the city. The funds raised by this group and precious groups has made a huge difference to lives of so many young people in our communities in educating them. Our big thanks to the group and looking forward to 2018 already.