Coláiste Éanna Donation
February saw the bi-annual trip to Calcutta by the group from Coláiste Éanna. This year as in 2012 twelve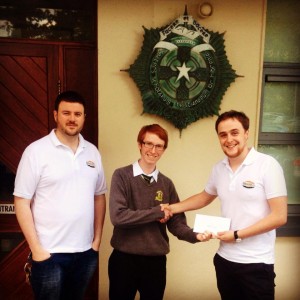 students were accompanied by four teachers on a ten day visit to the city. During their time there our Chairperson Brian Kelly had the pleasure of introducing the group to Calcutta and bringing them to visit our school in Tangra and Topisa. During their visit the boys from Coláiste Éanna interacted with the children in our centres and got to experience the communities where our centres are located.
After the group had returned members from our committee were invited to the schools annual award night to receive a donation from them. We were thrilled then to the be presented with a cheque for €16,000 from the pupils who had traveled to India earlier in the year.
This donation will allow us to continue to support education projects in some of the poorest communities and leave a lasting legacy of this years Coláiste Éanna India Immersion Project in Calcutta.